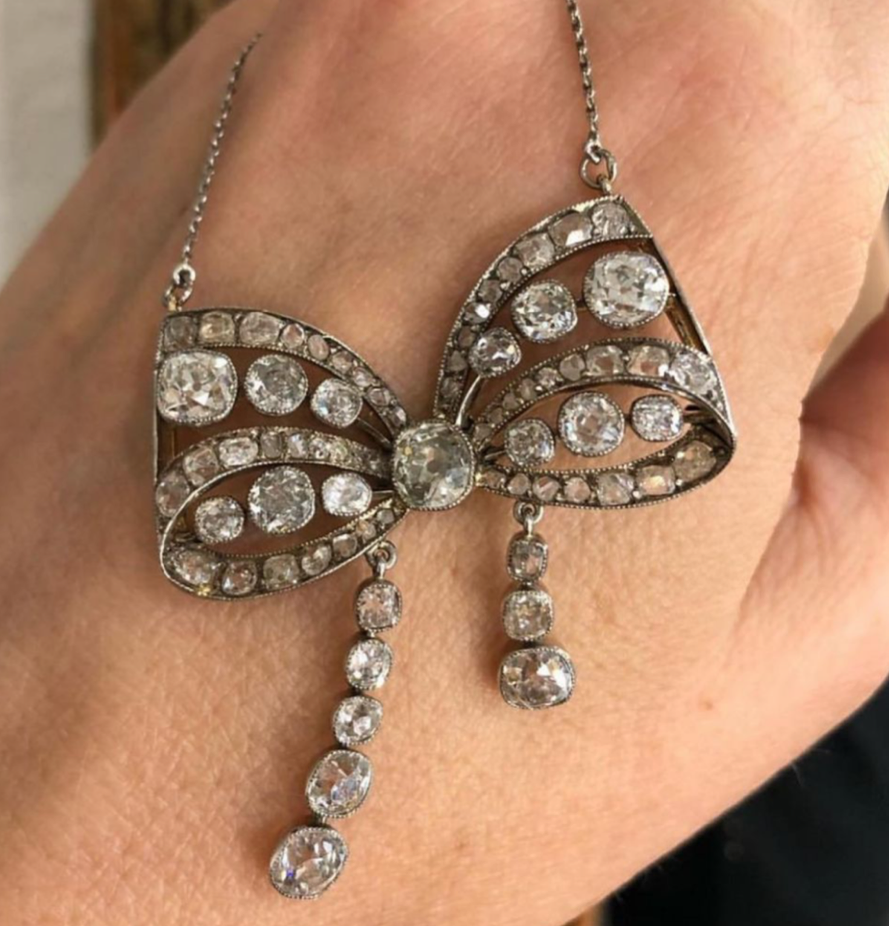 Pieces like this bow pendant don't come around in a hurry. Symbolising love, union and commitment, it is Edwardian making it over a hundred years old, and it is bedecked in antique diamonds.... 8.60ct to be exact. The craftsmanship of this bow pendant and its chain is exquisite whilst made in a hard metal such as platinum, the backing of the setting is in 15ct yellow gold.

For those of you who understand the preciousness of antique diamonds, this bow pendant holds 21 larger old cut diamonds, 20 smaller old mine cut diamonds, and 31 rose cut diamonds.

As a general, antique Diamonds have larger facets, allowing for a slower glint and play with light…giving the Diamonds that very elegant look. The very early antique diamonds were hand cut by the jeweller, most likely by candle light or kerosine (whale fat) light.

Yes, this pendant sat around the sweet neck of a fine lady of the upper echelon of the time. Imagine the fine balls & dinner parties this pendant has been a part of; whose eyes admired the pendant's beauty and what of their mind and Soul. Dear friends, this necklace is indeed a solid presence from an old world once lived.


Circa: 1905
Design Period: Edwardian
Gemstone: Diamond
Carat: 72 Diamonds = 8.60ct
Cut: Old Cut, Old Mine Cut & Rose Cut
Colour: G to I
Clarity: VS to SI
Material: Platinum & 15ct Yellow Gold
Chain: Integral Platinum Neck Chain
Ian Abeshouse Independant Valuation


Edwardian & Belle Époque Period (1901 - 1910):

Named after the reigning King Edward VII and with notable influences from French Rococo décor, this period was the shortest in antique jewellery history. However, it was during this time that platinum was introduced into the art of jewellery making which changed the way diamonds could be set. The popular jewellery design at the time was the "garland" which flowed on from the Art Nouveau period as it focused on nature but more particularly, on flowers and leaves often arranged in some circular shape. Through the use of milgrain and pierced and engraved metals, the Belle Époque designs gave way to jewellery that mimicked the delicate nature of lace and ribbon with natural pearls and old mine cut diamonds being the material of choice.