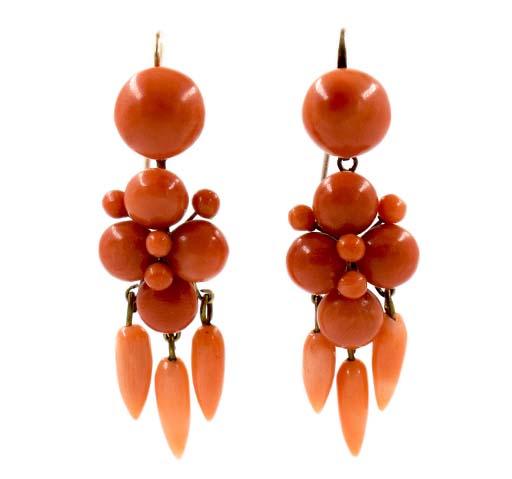 Description

Specifications




History
An immaculate pair of early Victorian coral earrings that will make your jaw drop. The orange colour of the natural coral is so vibrant and the fact they have lasted as a pair for over 180 years will make you feel extremely lucky to own them. 

Free Shipping and Delivery included with every purchase made Online.


Circa: Early Victorian c. 1840
Gemstones: Natural Coral
Cut: Carved
Material: Gilt 
Size: 48.00 mm length


The Victorian Period (1837 - 1901):



The Victorian Period defined by none other than Queen Victoria herself, had three stages - the Romantic, the Grand and the Aesthetic.



It was during the Romantic era that Queen Victoria married her Prince, Albert. Sentimental motifs such as; hearts, lover's knots, flowers, bows, crescent moons and particularly serpents (which was subject to Queen Victoria's engagement ring which represented enduring love) became extremely popular in jewellery design. Cameos, Enamelling and the use of bright coloured gemstones such as; garnets, amethysts, turquoise, pearls and diamonds gave way to the creation of jewellery that was beginning to speak a symbolic language of its own.