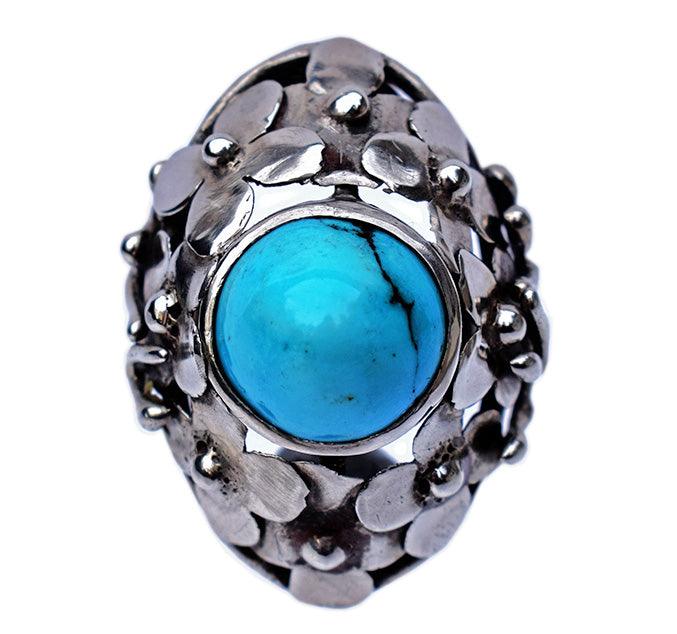 Description

Specifications




History
A bold 1960s sterling silver 

modernist ring. The organic abstract form is complemented by natural elements of silver flowers with a central blue cabochon turquoise. Flower power was a huge movement during the time, which had a strong influence on jewellery design. Abstract art also inspired jewellery with brightly coloured pieces modelling in natural styles of flowers, starbursts and leaves.



Free Shipping and Delivery included with every purchase made Online.


Circa: 1960s
Design Style: Modernist
Gemstones: Natural Turquoise
Material: Sterling Silver
Measurements: 35.00 x 25.00 mm
Finger Size: U 1/2
Polish Hallmarks

* Free Resizing Available - So that you receive the perfect fit, please let us know your finger size by placing it in the "special instructions" when checking out of the cart (complimentary service we provide, at no additional charge).


Modernist Jewellery (1960s):
The modernists style began in the 1960s by rejecting styles that were popular in the past. The Victorians were seen as too decorative, the Art Nouveau style was deemed too fussy and Art Deco was considered too rigid. The modernists felt their style was more in common with artists, painters and sculptors with a goal to create a one-of-a-kind artwork that people could wear.

In the United States, silver was being used along with copper and found objects. Semi-precious stones were used in surreal, geometric or biomorphic forms with influence drawn from African motifs and the cubist art movement. In Scandinavia, silversmiths took an interest in natural and primal forms with designers such as Georg Jensen hiring notable artists for the period such as Henning Koppel and Nanna Ditzel who paralleled the style of the modernist Americans.