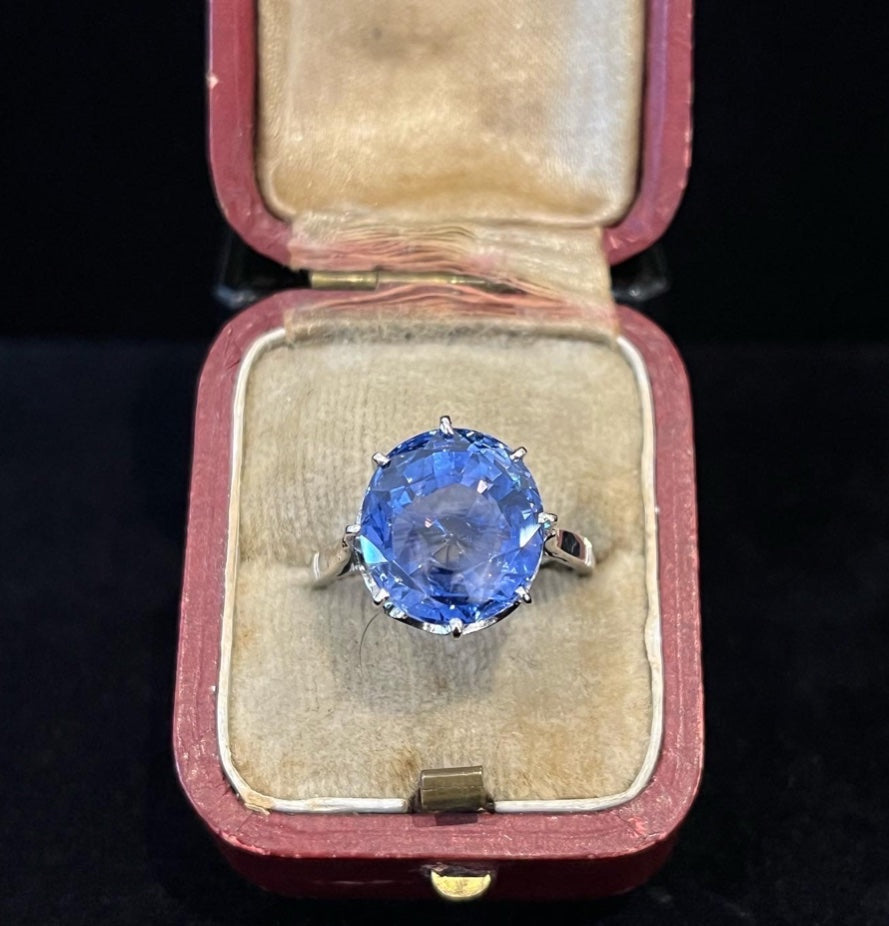 Ladies and gents, you may fall in love. This beauty is a circa 1930s French (with guarantee mark) oval cut 8.71ct natural Ceylon Sapphire, set in 18ct white gold. It comes with an independent valuation. This ring is ALL about the stone. Seeing there are no diamonds, this ring can be paired with a decadent diamond eternity band, without the risk of competing.


Circa: 1930s
Gemstone: Ceylon Sapphire
Carat: 8.71ct
Measurements: 12.10 x 11.00 x 7.00 mm
Cut: Oval
Colour: Light to Medium Blue, with No Heat Treatment
Material: 18ct White Gold
French Guarantee Marks on Band
Accompanied by A GSL Valuation

Art Deco (1920 - 1939):

It can be argued that the Art Deco period actually started before the 1920s, however it is agreed that it really took off after the Exposition Internationale des Arts Décoratifs et Industriels Modernes (International Exposition of Decorative Arts and Modern Industries) in Paris, 1925. 

Drawing on influences from earlier art movements such as Cubism and Bauhaus, the style took traditional jewellery design and through it out the window. The soft, flowing lines inspired by nature from the previous eras were gone. Instead sharp, geometrical designs took centre stage and countries such as Asia and Egypt became the primary source of inspiration. Platinum and white gold were the prominent metals used to set stones, diamonds were popularly being set and contrasted with black onyx and the bright colours of jade, coral, rubies, sapphires and emeralds. This design style resulted in some of the most amazing and influential designs to ever have come out of the industry.