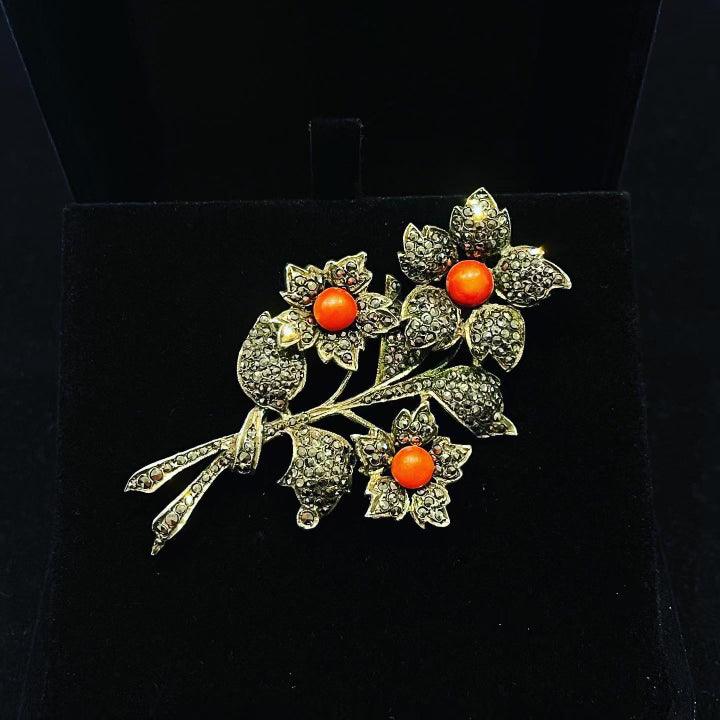 Specifications

Description

History
Circa: 1930s
Gemstone: Natural Coral and Marcasite
Material: Sterling Silver
Design: Rotating Flowers

Enjoy the hassle free option of

Free Shipping

or

Delivery

with every purchase.


Delicious, is a bit of an understatement when it comes to this gorgeous brooch. From the 1930's, this floral brooch is set in sterling silver with Marcasite and natural Coral. The flower heads on this brooch rotate!


1930s:
The 1930s saw a departure from the carefree flapper style of the 20s and a new decade began with the glamour that was oozing out of Hollywood. The dress clip was the most popular piece of jewellery at the time worn on the neckline and soon being designed in a double incorporating the symmetry featured so heavily in the designs of the Art Deco period. The slim line and fine details in rings and bracelets seen in the 20s were expanded on and bracelets became wider while rings became more elongated both horizontally and vertically on the fingers. Men wore Cartier's bejewelled cufflinks and diamond studded brooches, which brought an air of glamour to their masculinity.
Your browser does not support our video.