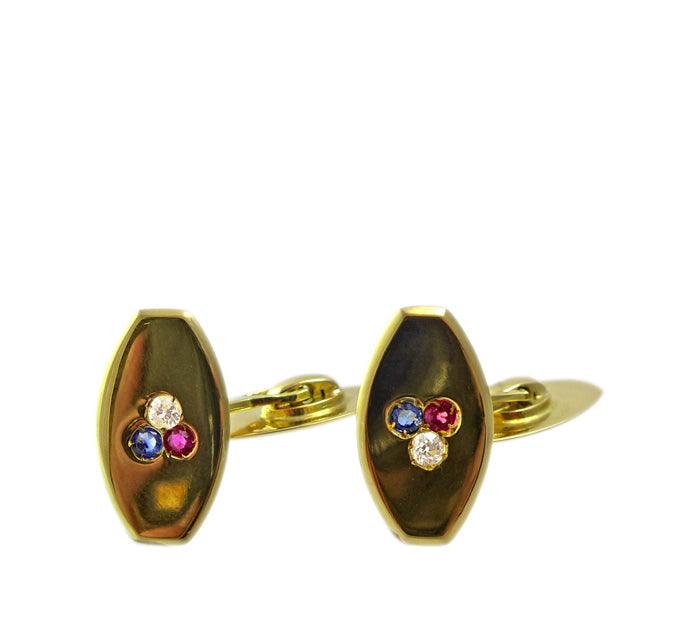 Specifications

Description

History
Circa: 1920s
Gemstones: Ruby, Sapphire & Diamond
Cut: Old Cut Diamonds and Round Cut Rubies & Sapphires
Weight & Colour: 4 Diamonds = 0.20ct 
Rubies & Sapphires measure 2.20 mm diameter
Material: 18ct Yellow Gold 
Handmade
Ian Abeshouse Valuation
Austrian guarantee mark for Vienna

Enjoy the hassle free option of

Free Shipping

or

Delivery

with every purchase.



A pair of 1920s ruby, sapphire and diamond cufflinks. The boat-shaped double sided cufflinks are made of 14ct yellow gold. The rubies each measure 2.20 mm and sapphires each measure 2.20 mm. The four old cut diamonds total 0.20 ct. The cufflinks are marked with an Austrian guarantee mark for Vienna.



The 1920s


Gone were the empire gowns of the Edwardian Era and in came the shorter, more free flowing flapper dresses with their dropped waists and flirty intentions. As a result the jewellery changed to compliment the latest fashion trends. While old cut gems were still being used, yellow gold was being fazed out and white gold and platinum were taking over the jewellery industry creating long necklaces with tassels on the end (satouirs), line bracelets and elongated earrings to stand out against short cropped hair. Rings were perfectly symmetrical and often featured contrasting stones which really added to the whole new look of the "Jazz Age".