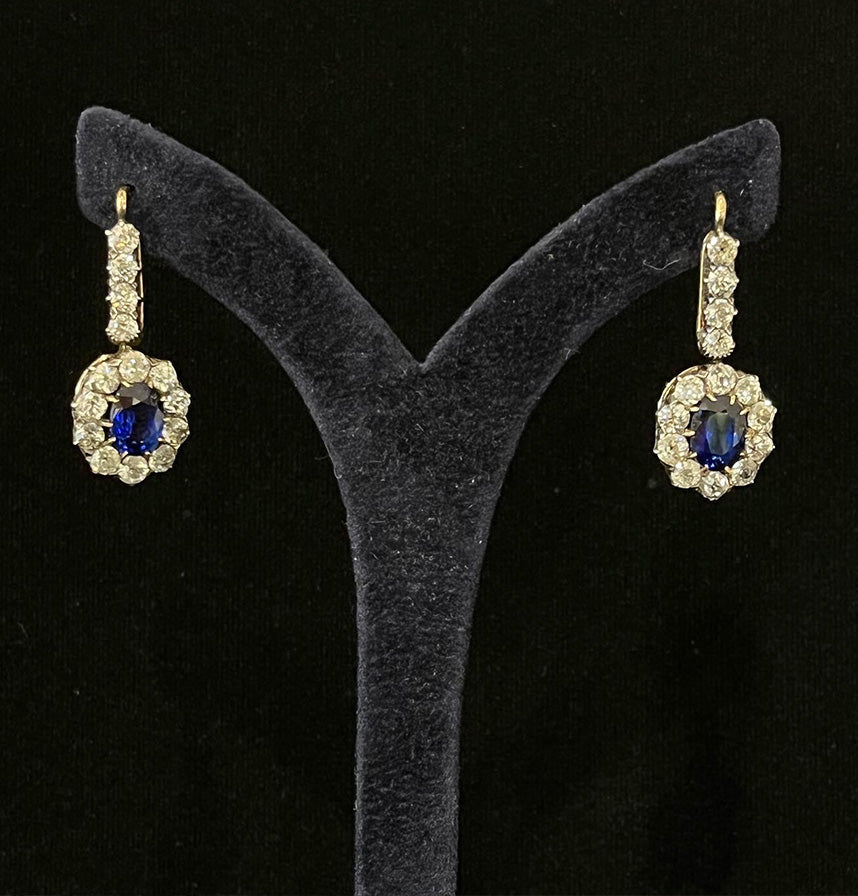 Description

Specifications




History
These Austro Hungarian Ceylon sapphire and diamond cluster drop earrings, continue to be absolutely magnificent. The very decadent 4.05 ct Ceylon Sapphire and 2.40 ct old mine cut diamond drop earrings are set in silver on 14ct yellow gold. They were made in Vienna, during the reign of the Austro-Hungarian empire and were designed by jeweller Erik August Kollin (1836-1901), who worked for Fabergé.

This pair, come with and independent valuation and are GSL certified.

Free Shipping and Delivery included with every purchase made Online.


Circa: 1885
Jeweller: Erik August Kollin
Control Marks:  Austro-Hungarian - Vienna
Material: 14ct Yellow Gold & Silver
Gemstone: Ceylon Natural Sapphires & Diamonds
Cut: Old Mine Cut Diamonds, Oval Sapphire
Carat: Sapphire 1 = 2.03ct, Sri Lankan, heated
Sapphire 2 = 2.02ct, Sri Lankan, heated
28 Diamonds = 2.40ct, H - J / SI & P1
Colour: Sapphire = Deep Blue Ceylon

Accompanied with a Gem Studies Laboratories certification.




Austro-Hungarian Empire:
Dating from 1867 to 1918, the Austro-Hungarian empire was one of the most powerful European powers second to Britain. It was a constitutional monarchy comprised of the Czech Republic, Austria, Slovakia, Ukraine, Poland, Romania, Hungary Slovenia and Croatia and was ruled by one monarchy - the House of Habsburg.

The region was at the forefront of industrialisation and trade and because of this, it led to a huge rise in middle and upper classes.

With its close proximity to Germany and Italy, many design influences overlapped and there was a strong push to revive designs from the Renaissance. This design revival differed from the older style in which jewellery became more extravagant in form and opulent in colour.

Jewellery was large and bold, with the two most famous and fashionable cities, Vienna and Budapest wanting to take centre stage and be at the forefront for fashion. Events such as the theatre, opera, ballet and costume balls were incredibly popular amongst the ruling and upper classes and opulent jewellery was worn as a symbol of social status.

Well known Austro-Hungarian jewellers of the time include Erik August Kollin who worked for Faberge, Köchert - the imperial court jeweller and Antol Bachruch.



Your browser does not support our video.