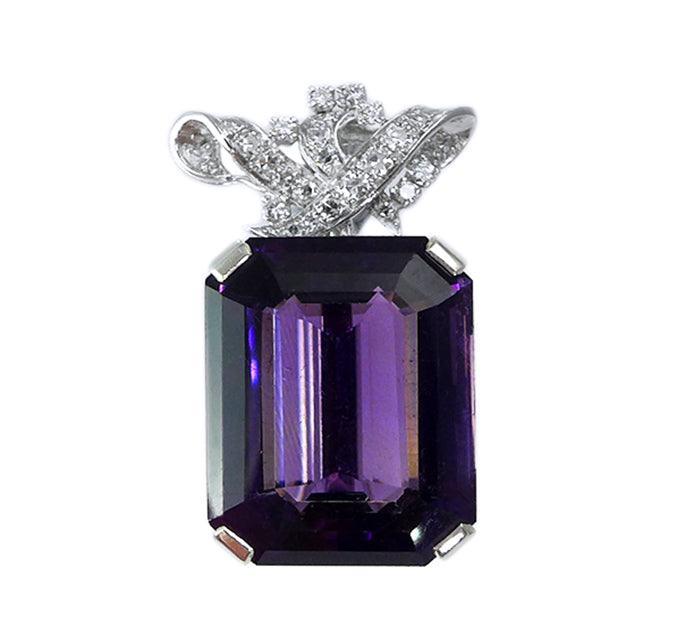 Specifications

Description

History
Circa: 1950s
Gemstones: Amethyst & Diamonds
Cut: Emerald Cut Amethyst & Brilliant Cut Diamonds
Weight & Colour: Amethyst = 34.00ct
26 Diamonds = 0.45ct, F / VS
Material: 18ct White Gold
Handmade setting
Ian Abeshouse Valuation


Circa 1950



Enjoy the hassle free option of

Free Shipping

or

Delivery

with every purchase.



A handmade 1950s amethyst and diamond pendant brooch. The emerald cut amethyst is four claw set in 18ct white gold with nineteen single cut diamonds and seven round brilliant cut diamonds set as a foliate bow. The Amethyst weights 34.00 ct measuring 24.40 x 18.60 x 10.80 mm. The twenty-six Diamond total 0.45 ct graded Colour: F and Clarity: VS. The brooch pin is removable. Circa 1950.



Mid 20th Century (1950 - 1970):
Through the 50s and 60s the hair was bigger, the dresses were bigger and the jewellery followed suit. Women wore more extravagant pieces than ever before and men opted for lots of gold. Cartier introduced jewellery depicting leopards and panthers and from then on each jewellery house did the same. Van Cleef & Arpels created bejewelled animals and flowers and Bulgari had its Serpentini line. Cocktail Rings were something a woman could simply not be seen without particularly in the US where a 'Cocktail Party' was the most stylish event you could be invited to.