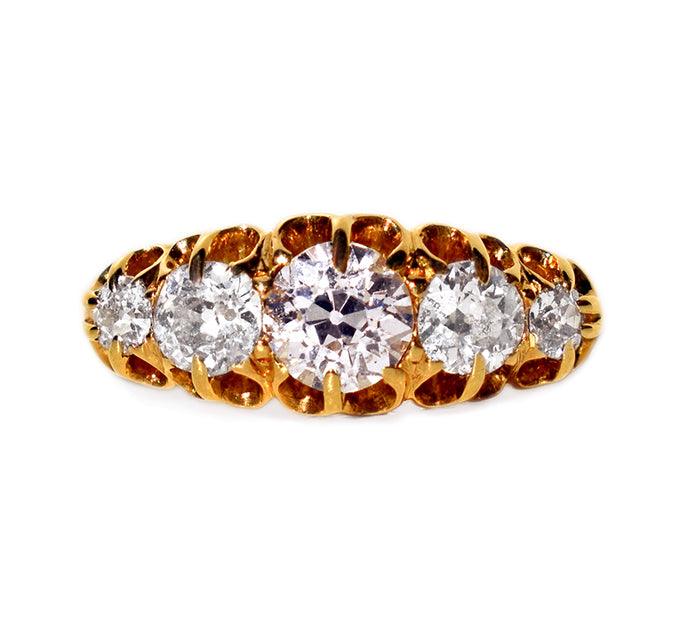 Description

Specifications




History
A beautiful Edwardian five graduated old European cut diamond half hoop ring claw set in 18ct yellow gold. The diamonds are of excellent quality, G/VS - H/SI and total 1.35ct. Circa 1910.
This ring is all handmade

Free Shipping and Delivery included with every purchase made Online.


Circa: 1910
Gemstones: Diamonds
Cut: Old European-Cut
Weight & Colour: 1 Diamond = 0.65ct, G/VS2
2 Diamonds = 0.50ct, G/SI1
2 Diamonds = 0.20ct, H/SI
Material: 18ct Yellow Gold 
Handmade setting
Ian Abeshouse Valuation
Finger Size: P 1/2

* Free Resizing Available - So that you receive the perfect fit, please let us know your finger size by placing it in the "special instructions" when checking out of the cart (a complimentary service we provide, at no additional charge).



Edwardian & Belle Époque Period (1901 - 1910):

Named after the reigning King Edward VII and with notable influences from French Rococo décor, this period was the shortest in antique jewellery history. However, it was during this time that platinum was introduced into the art of jewellery making which changed the way diamonds could be set. The popular jewellery design at the time was the "garland" which flowed on from the Art Nouveau period as it focused on nature but more particularly, on flowers and leaves often arranged in some circular shape. Through the use of milgrain and pierced and engraved metals, the Belle Époque designs gave way to jewellery that mimicked the delicate nature of lace and ribbon with natural pearls and old mine cut diamonds being the material of choice. 






Your browser does not support our video.