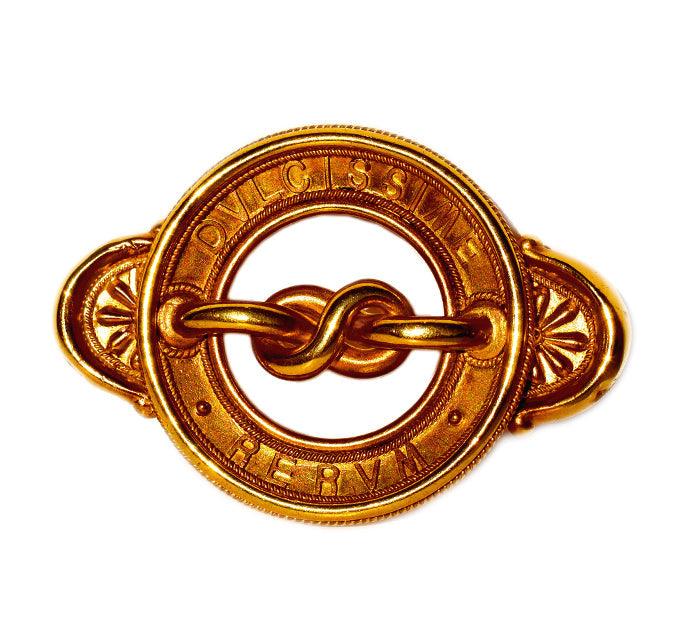 Description

Specifications




History
An early Victorian ERNESTO PIERRET Etruscan brooch. Made by '"o

ne of the first artists of Rome, second only to Castellani", this 18ct yellow gold brooch signifies the end of the Romantic period. Made in 1860, the year before the death of Prince Albert in 1861 its Latin inscription translate to 'The Sweetest' with a central figure-eight/infinity motif representing everlasting love. 




Ernesto Pierret (1824-1870) was a French jeweler, born in Paris and in the 1840s relocating to Rome to train as a goldsmith.

His works are of very high quality, featuring highly ornate gold work with typical Etruscan revivalist motifs. Parallels have been drawn frequently between his work and Castellani's and it has been suggested by historians that he may have been an apprentice or spent some time in the workshop of Castellani due to the similarity in style and mastery of technique that both firms display.

John Murray stated in his book in 1869 that Pierret was "One of the first artists of Rome, second only to Castellani."

William Buffum was was an expert and collector of amber and he designed two demi-parures in which to set some of his Sicilian amber specimens. One of these was commissioned from Castellani and the other from Pierret which would indicate that in Buffum's mind, these great jewellers were viewed as similar talent.

Pierret's jewellery is highly collectible and fetches tens of thousands of dollars at auctions around the world. His work is displayed in museums world-wide.

Free Shipping and Delivery included with every purchase made Online.


Circa: Early Victorian
Makers Mark: Ernesto Pierret
Material: 18ct Yellow Gold
Description: A brooch with Latin engraving 'DULCISSIME RERUM" translating to 'the sweetest' with a figure-eight eternity symbol motif. Embossed with makers mark on reverse. Circa 1860.
Measurements: 33.87 x 40.80 mm
Gem Studies Laboratory Valuation



Victorian Period (1837 - 1901):



The Victorian Period defined by none other than Queen Victoria herself, had three stages - the Romantic, the Grand and the Aesthetic.



It was during the Romantic era that Queen Victoria married her Prince, Albert. Sentimental motifs such as; hearts, lover's knots, flowers, bows, crescent moons and particularly serpents (which was subject to Queen Victoria's engagement ring which represented enduring love) became extremely popular in jewellery design. Cameos, Enamelling and the use of bright coloured gemstones such as; garnets, amethysts, turquoise, pearls and diamonds gave way to the creation of jewellery that was beginning to speak a symbolic language of its own.



The Grand era was a sombre period which saw Queen Victoria mourning the death of her beloved husband Albert. It encompassed 20 years during which time Victoria would only wear black and mourning jewellery. As a result the Whitby Jet industry flourished and onyx and deeper coloured garnets rose in popularity. Rings, lockets and brooches were commissioned with compartments for a lock of a loved one's hair and were often engraved with the person's name, age and date of death.



The Aesthetic era saw a return to the light-heartedness of the Romantic Era. The discoveries being made through archaeology led to an Etruscan Revival with Greek, Roman and Renaissance influences becoming apparent in jewellery design as well as symbols of good luck and fortune.



Your browser does not support our video.