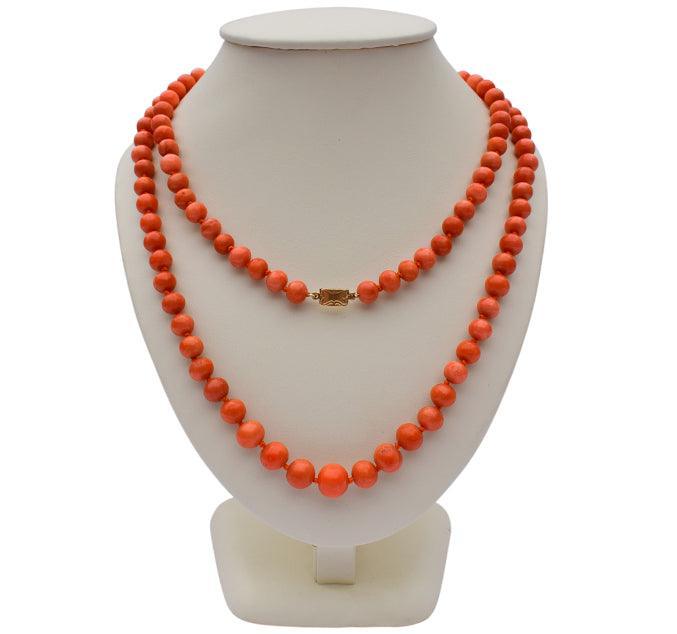 Specifications

Description

History
Circa: 1930s
Brand: "Gori & Zucchi" Arezzo, Italy
Gemstone: Coral
Cut: Off Round Beads
Colour: Mid-Orange
Size: Graduated from 6.96 mm - 10.13 mm
Measurements: 114 knotted coral, 87.50 cm length
Material: 18ct Yellow Gold Clasp
GSL Valuation $4,250.00

 

A statement strand of Italian 1930s coral beads. The necklace is made by Italian jewellers Leopoldo Gori and Carlo Zucchi establishing their brand in 1926 

in Arezzo, Italy

. The brand is still producing jewellery today and has been named after the two "founding fathers" as UNOAERRE. The simple, asymmetrical lines and feminine silhouettes of the 30s allowed for necklaces to be longer and heavier in style. Italy at the time was becoming a leader in global fashion, with an international reputation for having only the highest quality in jewellery and fashion. The 114 coral beads are graduated in size and are complimented by an engraved 18ct yellow gold clasp.



The 1930s:
The 1930s saw a departure from the carefree flapper style of the 20s and a new decade began with the glamour that was oozing out of Hollywood. The dress clip was the most popular piece of jewellery at the time worn on the neckline and soon being designed in a double incorporating the symmetry featured so heavily in the designs of the Art Deco period. The slim line and fine details in rings and bracelets seen in the 20s were expanded on and bracelets became wider while rings became more elongated both horizontally and vertically on the fingers. Men wore Cartier's bejewelled cufflinks and diamond studded brooches, which brought an air of glamour to their masculinity.