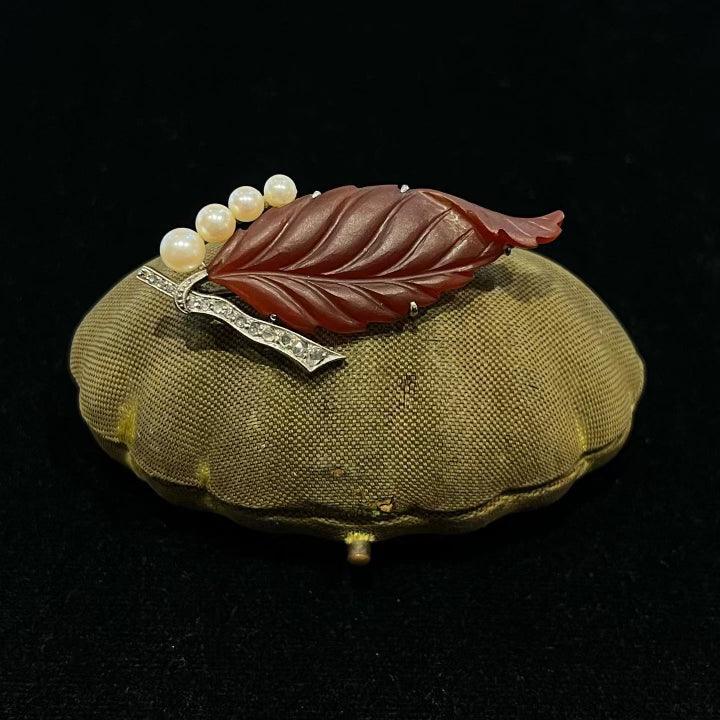 Specifications

Description

History
Circa: 1930
Gemstones: Carnelian, Diamond and Pearl
Cut: Rose Cut Diamonds
Pearls: Akoya Cultured Pearls
Material: 14ct White Gold
Measurements: Carnelian Leaf Length 42.00 mm
Pearls 3.70 to 4.70 mm 
Diamonds 1.00 to 2.00 mm
Origin: Austrian, Vienna Mark
Ian Abeshouse Valuation

Free Shipping or Delivery included with every purchase made Online.


This brooch is Autumn 🍂 captured in a piece of jewellery to perfection. We love the colour and texture contrasts between the attributes of this brooch. 

Showcased today we have an Australian 1930's Carnelian, Akoya Pearl and 14 rose cut Diamond brooch set in 14ct white gold. 

The colour of this Carnelian to the real eye is incredible, and a bit of light travels through the stone at the tips of the leaf, which makes it even more spectacular.






The 1930s:
This period saw a departure of the carefree flapper style of the 20s and a new decade began with the glamour that oozed out of Hollywood. The dress clip was the most popular piece of jewellery at the time, worn on the neckline and soon being designed in a double incorporating the symmetry featured so heavily in the designs of the Art Deco period. The slim line and fine details in rings and bracelets seen in the 20s were expanded on and bracelets became wider while rings became more elongated both horizontally and vertically on the fingers. Men wore Cartier's bejewelled cufflinks and diamond studded brooches, which brought an air of glamour to their masculinity.