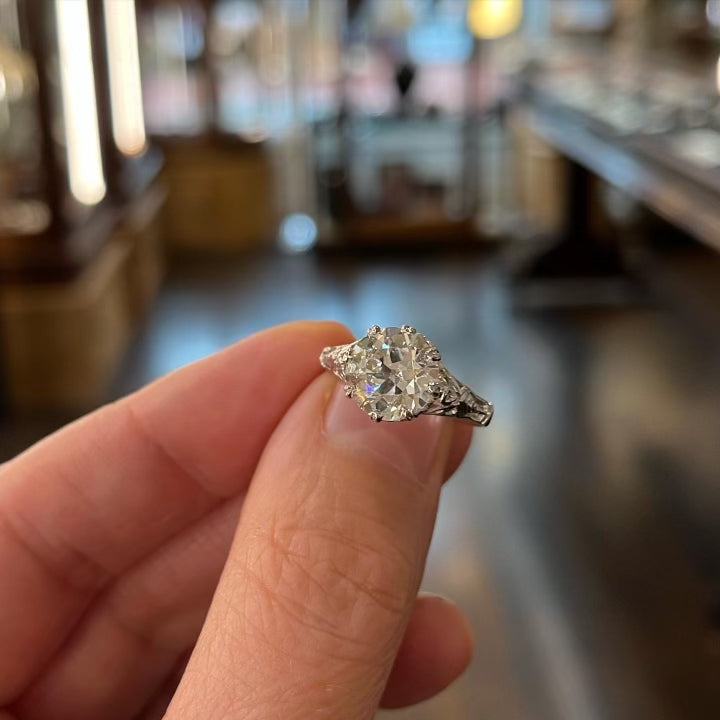 Description

Specifications




History
Stand out with this unique, one of a kind handmade ring! Made in the

 1930s, this solitaire diamond ring features a spectacular 2.97ct old European cut diamond handmade in a platinum setting. To find an original art deco piece of this size and calibre in mint condition, is getting harder and harder to come by.

Old European Cut diamonds like this, were faceted by hand with the exact measurements of each facet mathematically formulated by a trained eye.The diamond was considered a true form of beauty with the size and cut being of the highest importance - unlike modern stones cut today. 

Free Shipping and Delivery included with every purchase made Online.


Circa: 1930s
Design Style: Art Deco
Gemstones: Diamond
Cut: Old European Cut 
Weight: 2.97ct 
Colour & Clarity: K / SI2
Material: Platinum 
Handmade setting
Ian Abeshouse Valuation
Finger Size: P

* Free Resizing Available - So that you receive the perfect fit, please let us know your finger size by placing it in the "special instructions" when checking out of the cart (a complimentary service we provide, at no additional charge).

Free Shipping and Delivery included with every purchase made Online.



Art Deco (1920 - 1939):

It can be argued that the Art Deco period actually started before the 1920s, however it is agreed that it really took off after the Exposition Internationale des Arts Décoratifs et Industriels Modernes (International Exposition of Decorative Arts and Modern Industries) in Paris, 1925. 

Drawing on influences from earlier art movements such as Cubism and Bauhaus, the style took traditional jewellery design and through it out the window. The soft, flowing lines inspired by nature from the previous eras were gone. Instead sharp, geometrical designs took centre stage and countries such as Asia and Egypt became the primary source of inspiration. Platinum and white gold were the prominent metals used to set stones, diamonds were popularly being set and contrasted with black onyx and the bright colours of jade, coral, rubies, sapphires and emeralds. This design style resulted in some of the most amazing and influential designs to ever have come out of the industry.

Free Shipping and Delivery included with every purchase made Online.




Your browser does not support our video.