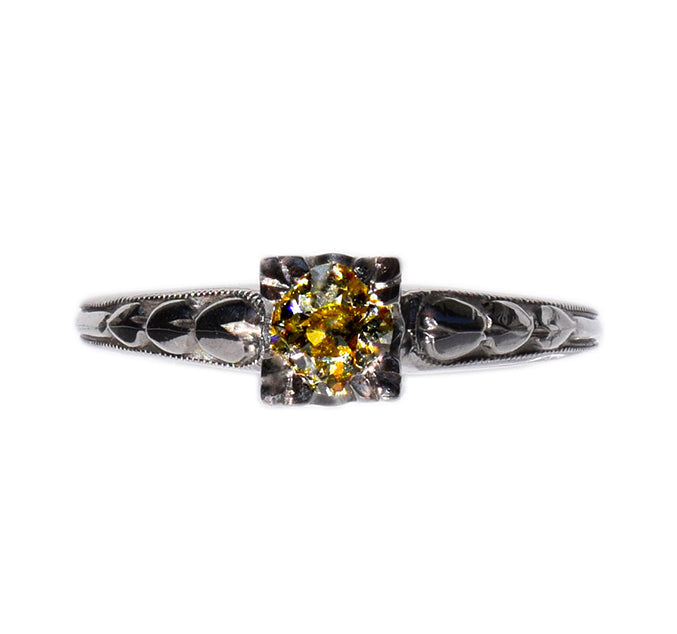 Description

Specifications




History
A natural fancy yellow diamond ring made by New York jeweller Karlan & Bleicher from the 1930s. Made in palladium, one of the rarest metals most people are not familiar with, it is the most valuable of four major metals in the world. Being a rare metal and very hard to come by, the shiny, lustrous, white metal is more expensive than gold and its worldwide demand and shortage in supply continues to drive prices high. Together with the natural, fancy coloured yellow diamond (another extreme rarity in nature) this 1930s ring is definitely a one-of-kind!

Free Shipping and Delivery included with every purchase made Online.


Circa: 1930s
Makers Mark: Karlan & Bleicher
Gemstones: Diamond
Cut: Old Mine Cut, Natural Fancy Yellow
Weight & Colour: Diamond = 0.37ct, 

Natural Fancy Yellow / SI2


Material: Palladium
Gem Studies Laboratory Valuation & GSL Diamond Grading Report

* Free Resizing Available - So that you receive the perfect fit, please let us know your finger size by placing it in the "special instructions" when checking out of the cart (a complimentary service we provide, at no additional charge).



The 1930s:
The 1930s saw a departure from the carefree flapper style of the 20s and a new decade began with the glamour that was oozing out of Hollywood. The dress clip was the most popular piece of jewellery at the time worn on the neckline and soon being designed in a double incorporating the symmetry featured so heavily in the designs of the Art Deco period. The slim line and fine details in rings and bracelets seen in the 20s were expanded on and bracelets became wider while rings became more elongated both horizontally and vertically on the fingers. Men wore Cartier's bejewelled cufflinks and diamond studded brooches, which brought an air of glamour to their masculinity.



Your browser does not support our video.